Regular price
$540.00 USD
Regular price
Sale price
$540.00 USD
Unit price
per
Sale
Sold out
View full details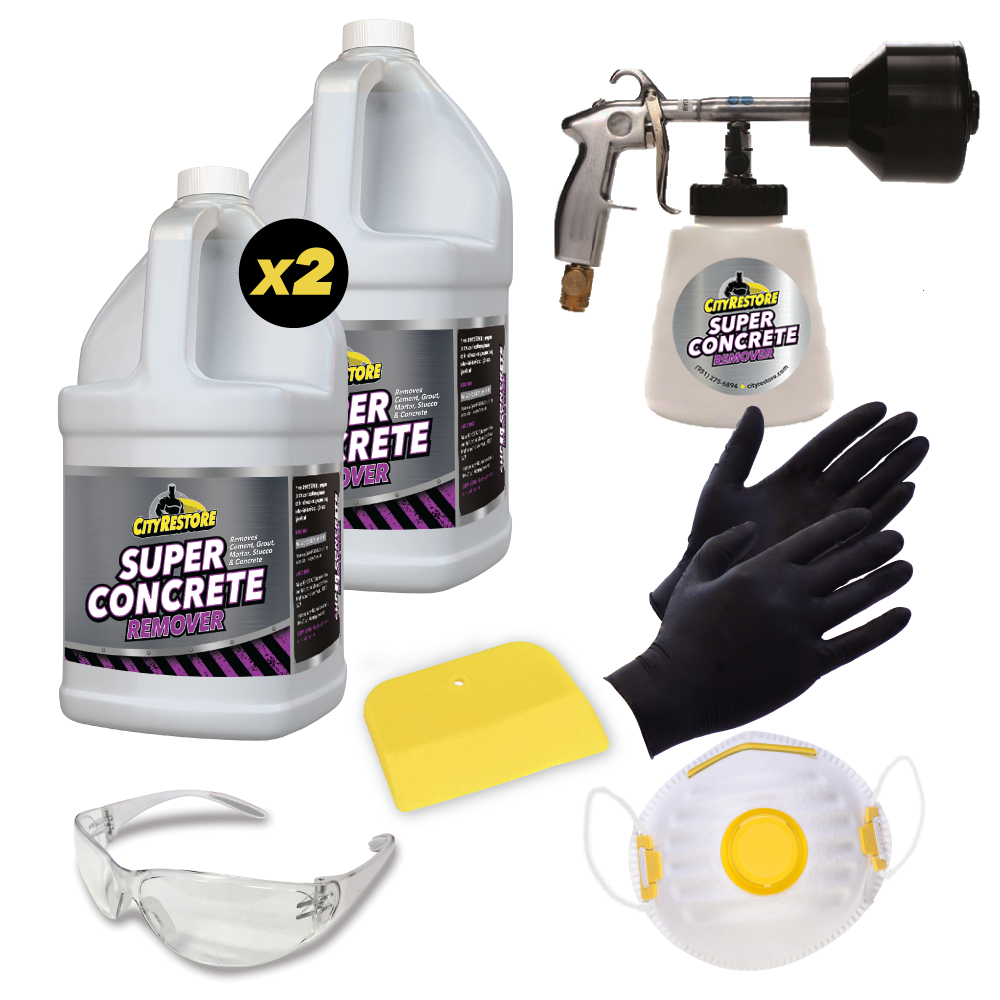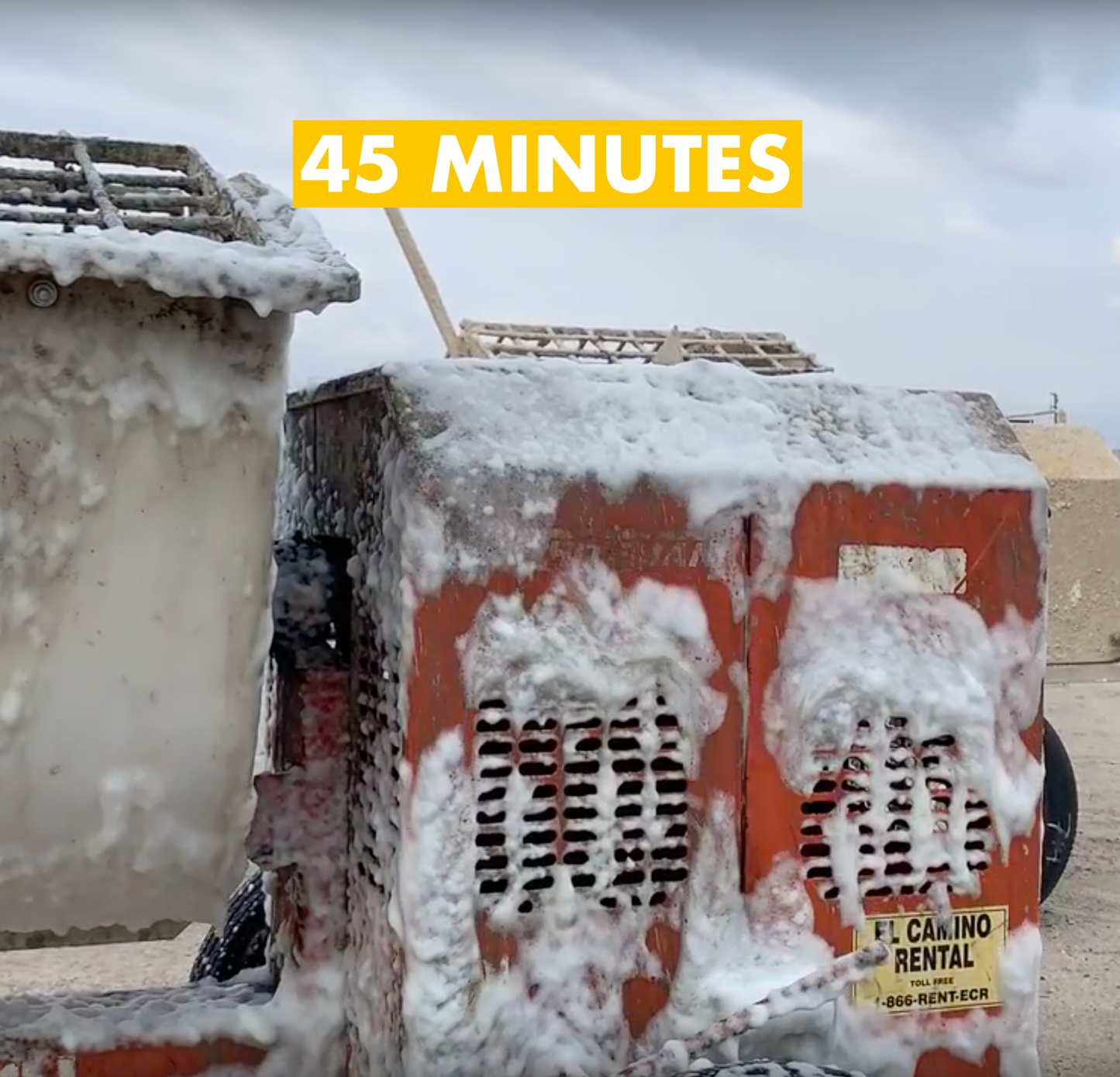 Introducing City Restore's Concrete Remover Kit – your ultimate solution for tackling stubborn concrete buildup. Our kit features the cutting-edge SUPER CONCRETE REMOVER. It is a potent and concentrated formula designed to effortlessly dissolve concrete, cement, mortar, grout, stucco, and more.
Our innovative concrete removal kit is engineered to combat concrete buildup at its core. It breaks down the toughest deposits and transforms them into a manageable softened form. The result? An easy pressure wash -away residue that eliminates the hassle of manual chipping and scraping. 
Using this high-quality softener will loosen the concrete which can easily be removed through pressure washing. This makes our concrete remover kit ideal for heavy equipment, including machinery, trucks, loaders, excavators, cranes, and bulldozers.
The SUPER CONCRETE REMOVER is safe to use on a wide range of surfaces and metals.
Concrete Remover Kit Includes:
2 Gallons Concentrated SUPER CONCRETE REMOVER - makes 8 gallons
1 Foam Sprayer

Gloves, Mask

Safety Glasses

Plastic Scraper

Instruction Sheet
Why Choose Our Concrete Remover Kit?
Here is why you should choose City Restore's concrete remover kit:
High Potency
Our kit features the SUPER CONCRETE REMOVER, enabling the easy breakdown of concrete buildup at its core. It ensures efficient removal without the need for strenuous labor.
Surface-Friendly
Rest assured, our concrete softener will not harm most paint, decals, hoses, or wiring of your valuable equipment. It keeps their integrity intact while effectively removing concrete residue.
Easy-to-Use
Our kit is designed with ease of use in mind. The straightforward application process means you can effortlessly loosen the concrete buildup without any specialized training or equipment.
All-Inclusive Package
With our kit, you receive all the tools you need for successful concrete removal, simplifying the process and saving you time and effort.
Efficient Outcomes
Experience remarkable results as our powerful formula transforms concrete into an easily manageable  softened form. This enables a quick swift cleanup and minimizes downtime.
Versatility
The SUPER CONCRETE REMOVER works effectively across a range of surfaces. From heavy equipment to other surfaces, our kit has you covered.
How to Use the City Restore Concrete Removal Kit
Prepare Safety Gear
Put on gloves, mask, and safety glasses for protection before starting the concrete removal process.
Dilute the Solution
Consider the severity of the concrete buildup before diluting the concentrate. Add water to it per the recommended ratio provided in the instruction sheet.
Apply with Foam Sprayer
Attach the foam sprayer to an air compressor. Make sure the sprayer is securely fastened to prevent any leaks. The foam application allows more effective cleaning; it helps the formula to cling to vertical surfaces and areas with irregular shapes.
Wait for Action
Allow the solution to sit on the concrete surface for the recommended dwell time mentioned in the instruction sheet.
Gentle Agitation
For tougher concrete residues, you can use the plastic scraper to gently agitate the surface. Ensure you're wearing gloves during this step. The scraper will help loosen the dissolved concrete.
Thoroughly Rinse
Rinse the treated area with a pressure washer to wash away all the residue. Repeat if needed.
Find the Best Concrete Remover Kit Near Me!
Our Concrete Remover Kit is a comprehensive package. Equipped with SUPER CONCRETE REMOVER, this is your go-to solution for effortless concrete removal. With all-inclusive tools like a foam sprayer, gloves, a mask, safety glasses, and more, our kit ensures efficient and safe removal on various surfaces. 
Whether it's heavy equipment, or other surfaces, find convenience and effectiveness right at your fingertips.  So, if you are looking for a reliable concrete remover kit near me, the City Restore Concrete Removal Kit has you covered.
Choosing a selection results in a full page refresh.
Opens in a new window.