Only 4 Steps to restore your equipment?... Sounds too good to be true, doesn't it?
Well, the truth is that CityRestore's restoration process is one-of-kind. Founder Greg Holt has spent over 28 years in the restoration business. And has spent thousands of hours refining and perfecting his flagship product the Equipment Restoration Kit.
Typically 3rd part restoration companies require you to hand scrub machine, making it practically impossible to properly clean any decent size machine. Or the more popular option, you have to get the machine repainted, which can easily cost a couple of thousand dollars.
What makes CityRestore's restoration kit unique is the many advantages it holds over other restoration options. The easy application process makes it so that virtually anyone can provide a 5-Star restoration result without requiring special training. You easily apply the cleaning solution using the included pump and spray gun.
Each kit can restore up to 3 - 4 backhoes, making the Equipment Restore kit only a fraction of the cost of any other option on the market!
So, how does the 4-Step Restoration Process® work?
Each kit includes everything you need to get started, the only thing you'll need to have in order to get the job done is a pressure wash machine.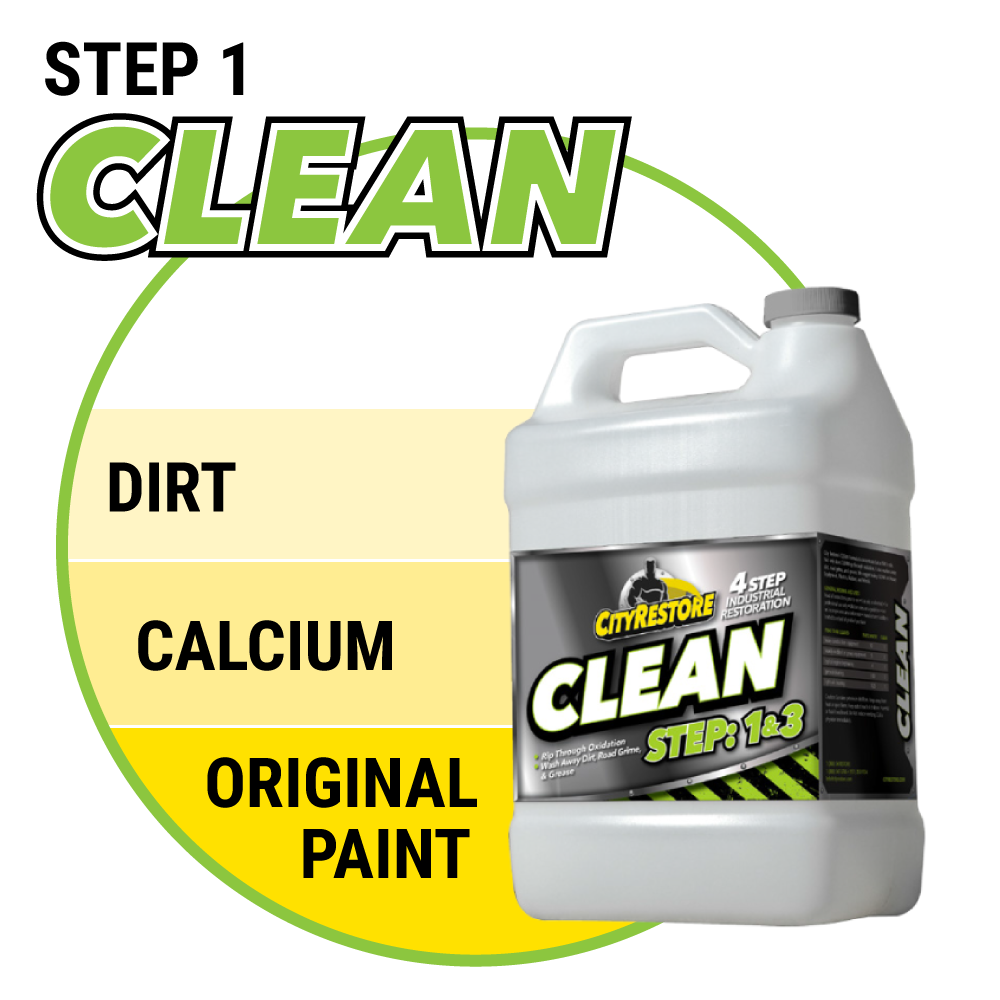 CityRestore's CLEAN formula is a concentrated cleaner that rips through dirt, road grime, grease and oxidation. It is used as the first and third steps of the 4-Step Restoration Process®.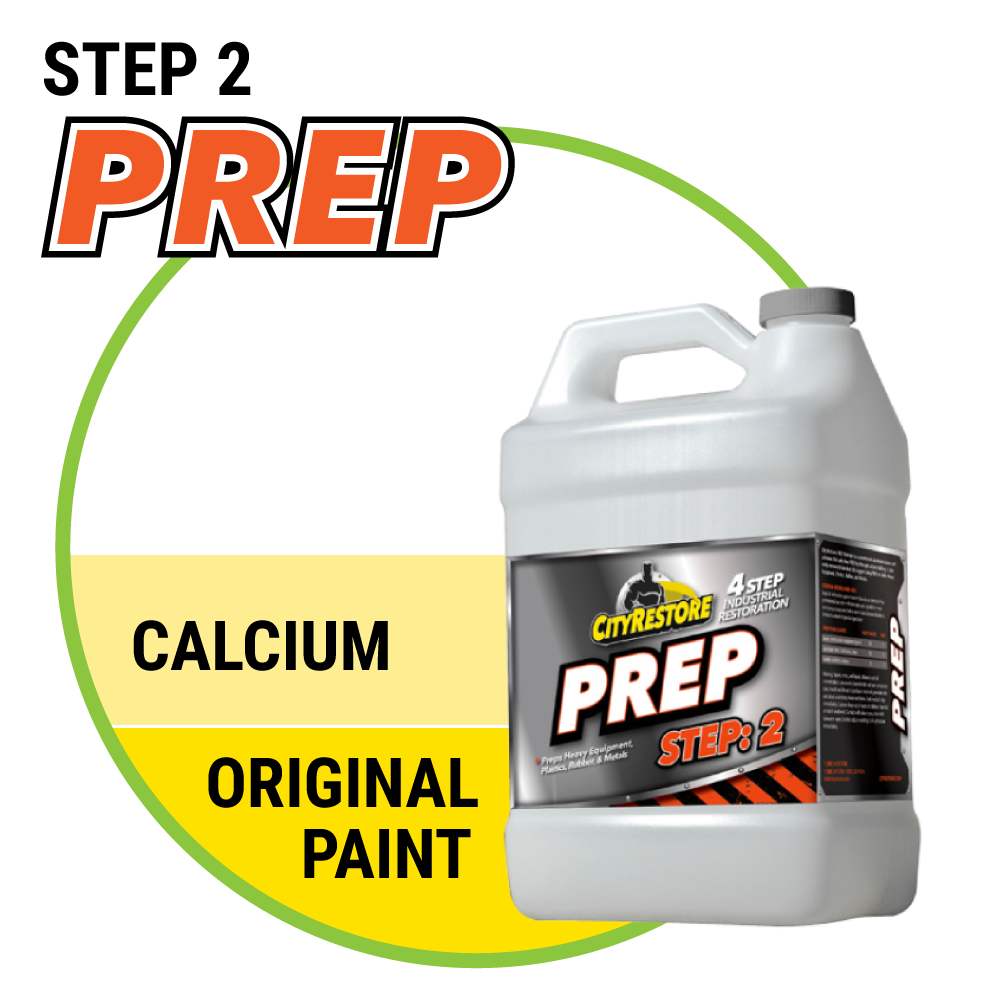 CityRestore's PREP concentrate cleans and decalcifies a full range of surfaces including paint, powder coat, plastics, metals, and acrylics.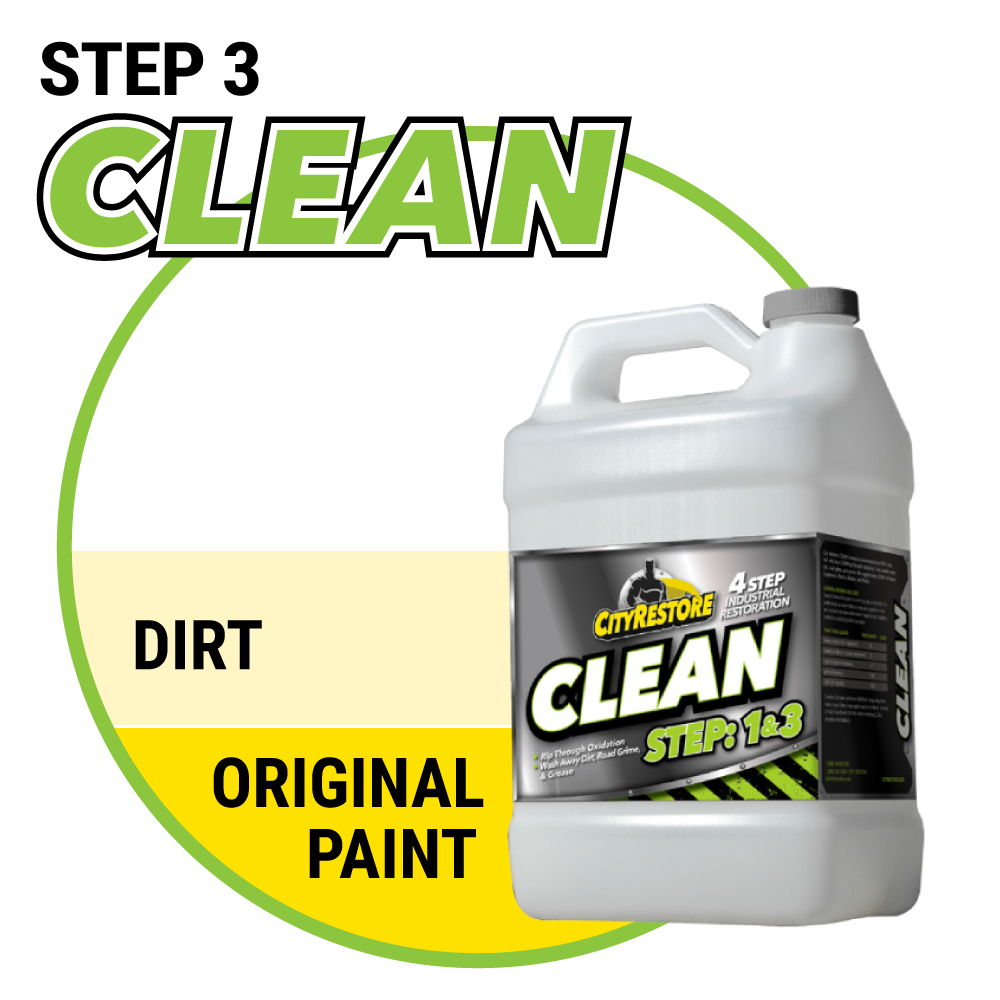 We repeat the application of the CLEAN in order to remove any excess dirt and debris that was hiding underneath the calcium build up.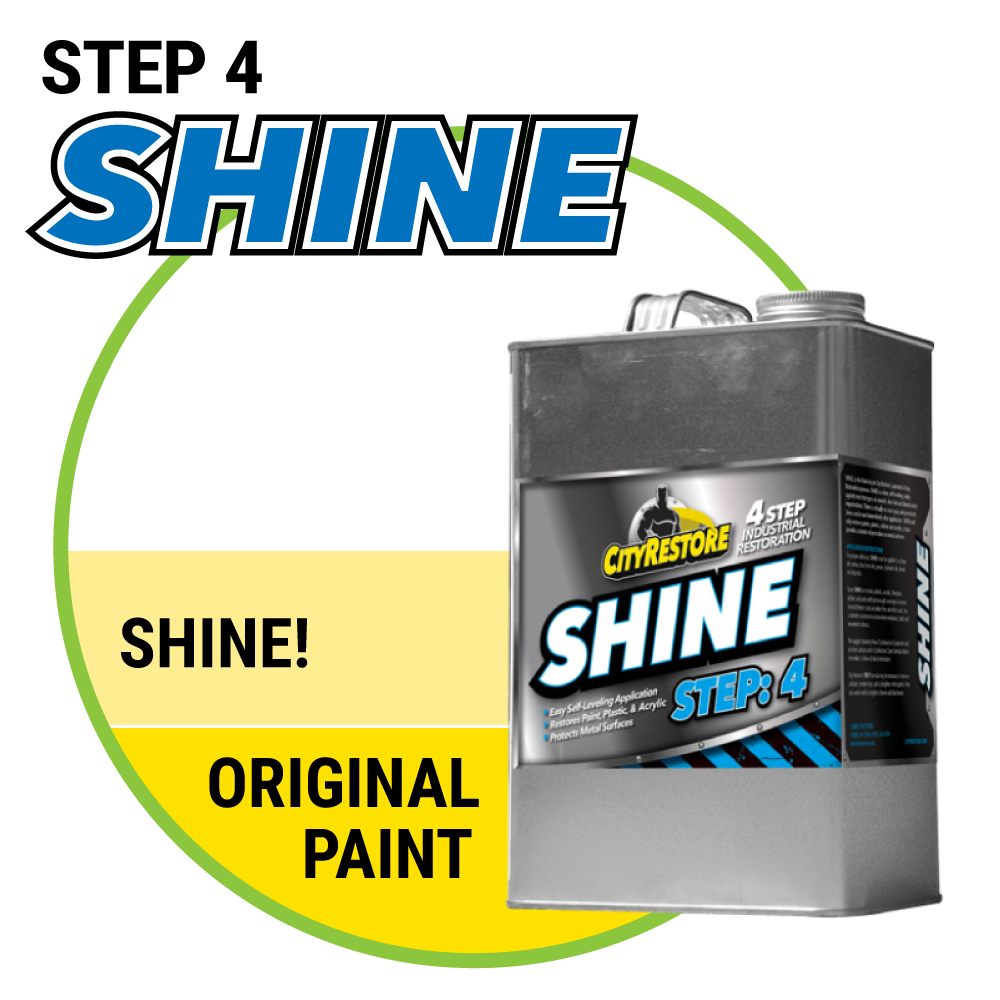 CityRestore's SHINE is the final step in the restoration process. Easily applied, SHINE is a clear, self-levelling resin that goes on smooth, dries fast and blends most imperfections.
The Results are NIGHT & DAY!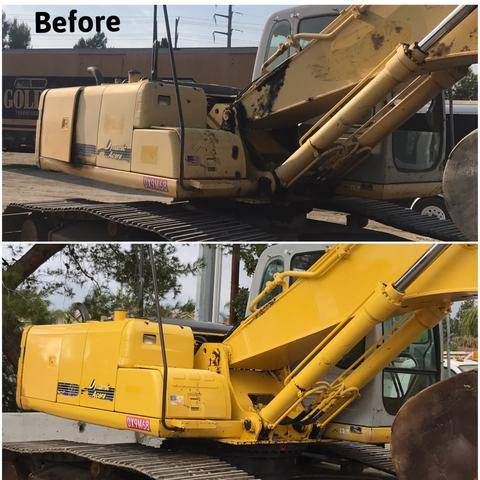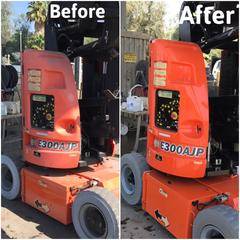 Restoring your equipment doesn't have to be a hassle. CityRestore is your superpower when it comes to restoring the shine and value on your machines. Perfect for companies because it costs less than anything else on the market and the results are undeniably better! It only requires one person to apply, and typically takes less than an hour to finish a medium size machine!
If you're interested in saving money, time, and hassle. The Equipment Restore Kit is the answer for you!
What does the Equipment Restore Kit include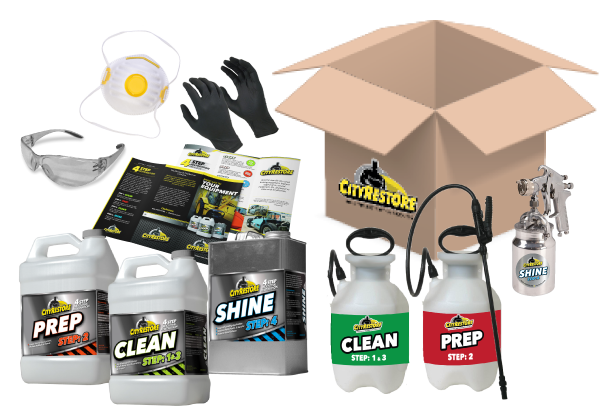 1 Gallon SHINE
1 Gallon CLEAN
1 Gallon PREP
2 x 1 Gallon Pump Sprayers + 1 Spray Gun
Instruction Sheets
Online Application Video
How many machines can it restore?
Skiploader size – Restore approx. 3 to 4 pieces per gallon with SHINE.
Backhoe size – Restore approx. 2 to 3 pieces per gallon with SHINE.
Gradall size – Restore approx. 2 pieces per gallon with SHINE
Check out our other articles: